2021-2023 Cochran Civil Rights Fellowship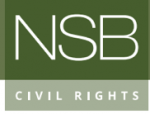 The 2021-2023 Johnnie L. Cochran, Jr. Civil Rights Fellowship at Neufeld Scheck & Brustin, LLP (NSB) is open for receiving applications until November 1, 2020.   NSB is a civil rights law firm in New York that brings police misconduct lawsuits on behalf of clients across the country. Since NSB is a small firm, fellows interact daily with partners and take primary responsibility for many aspects of the day-to-day in our cases. The fellowship provides an invaluable opportunity to learn about litigation while working on incredibly meaningful civil rights cases.  For example, two of our current fellows who have just started their second year with the program served as the taking attorney in depositions.  Most of our clients spent decades wrongfully imprisoned for crimes they did not commit. By holding those responsible accountable, NSB gives voice to our clients' stories and helps provide them with resources to rebuild their lives.  To learn more about the Cochran Fellowship and NSB, please visit www.nsbcivilrights.com or view the attached flyer.  
In addition to this being a paid fellowship, the firm offers a loan assistance repayment program for Cochran Fellows.  The 2021-2023 Cochran Fellowship will start in Fall 2021.  Our interview process will take place in November 2020.  Due to COVID-19, interviews will take place using video conferencing.   
To apply, candidates should email fellows@nsbcivilrights.com by November 1, 2020 with their resume, cover letter (discussing their commitment to civil rights/social justice and their long-term goals), law school transcript (PDF copy), list of references, and writing sample.    We are looking for fearless advocates for our clients, whether at a deposition, in brief writing, or in the courtroom. Although many fellows are former judicial clerks, there is no clerkship requirement. We seek candidates who have demonstrated excellence in any number of ways, whether through clinical work, other social justice experience, or litigation experience at another law firm.  NSB is committed to serving its diverse clientele and ensuring an office environment that is welcoming and respectful to people of all backgrounds. We strongly encourage applications from all candidates committed to holding officers accountable for their misconduct.