Agency Attorney - Staff Counsel, City of New York Consumer and Worker Protection
City of New York Consumer and Worker Protection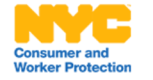 DCWP's General Counsel Division is seeking an experienced professional to review, draft and manage its work related to contracts, taking ownership of the process as the agency's lead contracting attorney, and to perform other functions, as necessary, within the Legal Counsel Unit. Under the supervision of the General Counsel, Deputy General Counsel, and Associate General Counsel, the Contract Staff Counsel will:

• Interact regularly with internal stakeholders across multiple DCWP Divisions, ensuring that all contracting processes are followed, including obtaining and documenting all necessary approvals required in connection with each contract.
• Work with the ACCO and the DCWP Procurement staff to ensure that all publicly funded contracts follow proper processes, including the Procurement Policy Board Rules and PASSPort, the City's new contract review portal.
• Develop, assess and negotiate contract terms, especially those involving intellectual property, privacy, and consulting, for all DCWP Divisions, but primarily DCWP's Office of Financial Empowerment.
• Ensure consistency of contract terms with DCWP's policies and goals.
• Review and develop processes, guidelines and procedures relating to DCWP's contracting activities.
• Draft Memoranda of Understanding between DCWP and other City agencies and public entities.
• Review Request for Proposals and draft Mayor's Fund contracts for privately funded projects.
• Perform other functions, as necessary, within the Legal Counsel Unit, including providing legal counsel to DCWP divisions and drafting documents necessary to implement and enforce laws under the jurisdiction of DCWP.

This is a client-facing position. It is expected that this attorney will establish productive relationships with internal and external clients and partners and foster a client-focused approach with respect to the performance of all contracting responsibilities. The ideal candidate for this position has extensive contract drafting and review experience involving both public and private funding sources; and a desire to utilize legal skills in a non-litigating manner.
For Non-City/External Candidates: Visit the External Applicant NYC Careers site and type "Consumer Affairs" on the search line. Then locate the Job ID number.
For Current City Employees: Visit Employee Self Service (ESS) to view and click on Recruiting Activities, Careers, and search by Job ID number.