Agency Attorney - Staff Counsel, City of New York Consumer and Worker Protection
City of New York Consumer and Worker Protection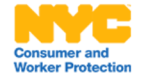 The NYC Department of Consumer and Worker Protection (DCWP) protects and enhances the daily economic lives of New Yorkers to create thriving communities. DCWP licenses more than 51,000 businesses in more than 40 industries and enforces key consumer protection, licensing, and workplace laws that apply to countless more. By supporting businesses through equitable enforcement and access to resources and, by helping to resolve complaints, DCWP protects the marketplace from predatory practices and strives to create a culture of compliance. Through its community outreach and the work of its offices of Financial Empowerment and Labor Policy & Standards, DCWP empowers consumers and working families by providing the tools and resources they need to be educated consumers and to achieve financial health and work-life balance. DCWP also conducts research and advocates for public policy that furthers its work to support New York City's communities. For more information about DCWP and its work, call 311 or visit DCWP at nyc.gov/dcwp or on its social media sites, Twitter, Facebook, Instagram and YouTube.

The Office of Labor Policy and Standards ("OLPS") enforces the City's worker protection laws, such as the Earned Safe and Sick Time Act, the Freelance Isn't Free Act, and the Fair Workweek Laws, including "just cause" protections against wrongful firings for fast food workers, and the recently passed Delivery Workers Law creating new rights for app-based food delivery workers. Working closely with outside stakeholders, OLPS also advocates for new laws, performs research and data analysis to make policy recommendations, and conducts outreach and education to workers, employers, and the general public. More information about our office is available at nyc.gov/workers.
OLPS is seeking a recent law graduate with a commitment to social justice and workers' rights to enforce NYC worker protections, with particular emphasis on enforcing groundbreaking new protections for app-based food delivery workers. The attorney will:
Work on complex investigations to develop evidence suited to litigation.
Review investigators' reports and evaluate the strength of evidence for litigation.
Under the supervision of experienced attorneys, litigate enforcement actions before the City's Office of Administrative Trials and Hearings to obtain monetary relief for employees who experience workplaceviolations. This includes interviewing witnesses, drafting pleadings and legal briefs, preparing witnesses totestify, developing damages calculations, and trying cases.
Negotiate the terms of Consent Orders with employers to settle enforcement matters.
Perform legal research to support OLPS enforcement and policy work.
This position is an exciting opportunity for a recent law graduate to be involved with a growing office working on the next generation of labor laws. The ideal candidate is interested in labor and employment law and in developing litigation skills.