Associate Attorney - Kaufman Lieb Lebowitz & Frick LLP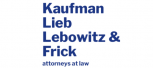 Kaufman Lieb Lebowitz & Frick LLP is seeking to hire a full-time junior or mid-level associate beginning in the fall of 2021. Our firm is a justice-oriented litigation boutique with a focus on civil rights, including police misconduct and excessive force, employment and housing discrimination, prisoners' rights, First Amendment rights, and wrongful conviction. We also have a small commercial practice representing individuals and companies. We are a small, collaborative firm. We aspire to work nimbly, creatively, and without unnecessary hierarchy or formality. We find fulfillment in applying our skills and experience to seek accountability for law enforcement and government abuses, combat structural racism, sexism, homophobia, transphobia, and ableism, and advocate for clients who face injustice at the hands of more powerful parties. We are looking for a bright, passionate advocate with an outstanding academic record and a commitment to civil rights to join our growing firm. Learn more about us at kllf-law.com.

REQUIREMENTS:
1. Demonstrated interest and/or experience in one or more areas of civil rights law, such as Section 1983 or anti-discrimination laws.
2. Superior research and writing skills.
3. Ability to efficiently manage time and a busy caseload.
4. Solid interpersonal and communication skills and a desire to directly interact with clients.
5. Must be admitted to the NY Bar, or have passed the NY Bar Exam by September 2021.
6. 1-3 years experience. While not required, clerkship experience and Spanish language skills are highly preferred.

RESPONSIBILITIES:
1. Manage and litigate civil rights and commercial cases from inception through trial, including legal research, motion practice, and discovery.
2. Analyze and assess new cases for representation.
3. Engage in high-stakes negotiations, mediations, and other pre-litigation advocacy.

SALARY:
$80-95K per year depending on level of experience, plus a discretionary year-end bonus.
Application Instructions:
We are committed to diversity and inclusion and particularly encourage applications from qualified individuals with diverse backgrounds and experiences, including those typically underrepresented in the legal profession. We welcome inquiries from all qualified individuals without regard to race, color, national origin, gender, gender identity, sexual orientation, disability, or caregiver/family status.
To apply, please send your cover letter, resume, law school transcript, writing sample, and a list of three references to hiring@kllf-law.com. Please combine your application materials into a single PDF prior to submission.