City Bar Diversity Fellowship Program - 1Ls, Summer 2021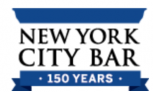 City Bar Diversity Fellowship Program
The New York City Bar Association Committee on Recruitment and Retention of Lawyers has been the proud sponsor of the City Bar's Diversity Fellowship Program since 1991. Since then, more than 600 diverse and talented first year law students from eleven New York City area law schools have been given a rare and valuable opportunity to jump start their careers in the law by spending their 1L summer in a law firm or corporate/ government legal department. Program alumni have achieved success at all levels of the professions including as law firm partners, general counsels, assistant district attorneys, assistant attorney generals, entrepreneurs, and executive directors. Countless program alumni have begun their careers with their Fellowship employers.
The selection criteria for Program Fellows are demanding. As a result, we identify students who have proven themselves, even as 1Ls, capable of flourishing in the challenging settings that are today's government offices, law firms and corporations. After completing a legal writing requirement, preparing a personal statement and being interviewed by a faculty-dominated screening committee at their respective schools, the candidates selected by their schools are then interviewed again by a panel of attorneys and other school representatives under the aegis of the Committee. Like the preliminary process at their schools, this interviewing panel also reviews the candidate's undergraduate and law school transcripts, resume, personal statement and legal writing sample. Only those who pass this final hurdle are assigned to a participating employer.
To apply, please click the link below for more information, but also please speak with your law school career advisor today!  The following law schools are participants in the program: Brooklyn Law School, Cardozo School of Law, City University of New York School of Law, Columbia Law School, Fordham University School of Law, New York Law School, New York University School of LawMaurice A. Deane School of Law at Hofstra University, Elisabeth Haub School of Law at Pace University, St. John's University School of Law, Touro College Jacob D. Fuchsberg Law Center.