Law School Graduate Fellowship - Civil Rights Bureau/Special Investigations
New York State Office of Attorney General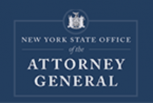 The New York State Office of the Attorney General is offering a one (1) year law graduate fellowship with placement in the Manhattan office to work jointly between the Civil Rights Bureau and the Special Investigations and Prosecutions Unit. This fellowship is uncompensated. Post-graduate law students with law school funding, public interest fellowships, as well as those candidates who may not have outside funding, are encouraged to apply.
The Civil Rights Bureau works to promote equal justice under law and seeks to enforce the civil rights of all New Yorkers. Using federal, state, and local civil rights laws, the Bureau enforces laws that protect all New Yorkers from discrimination on the basis of race, color, national origin, sex, religion, age, marital status, sexual orientation, gender identity, military status, source of income or disability.
The Special Investigations and Prosecutions Unit is responsible for investigating and, if warranted, prosecuting all cases that fall within the scope of Executive Order 147. This Executive Order requires the AG's Office to act as a special prosecutor in incidents where a law enforcement officer causes the death of an unarmed civilian, or where there is a significant question as to whether the civilian was armed and dangerous. In instances where SIPU investigates but declines to pursue charges, it is required to publish a report explaining the outcome of the investigation and any recommendations for systemic change arising out of the investigation.
The CRB-SIPU Fellow will work jointly with both Bureaus, principally assisting in their work around policing best practices. Applicants must possess excellent research and writing skills and have a demonstrated commitment to public interest work.
Applicants must either (1) be admitted to the New York State bar; (2) be awaiting admission to the New York State bar; (3) be awaiting New York State bar exam results; or (4) be preparing to sit for the next scheduled New York State bar exam. 
A Volunteer AAG has the opportunity to function as an AAG and, therefore, is vetted and approved as if an AAG. Applicants must reside in (or intend to soon become a resident of) New York State.  In addition, the Public Officers Law requires that AAGs in the Office be citizens of the United States. Accordingly, Volunteer AAG candidates who do not meet the citizenship and/or residency requirements and have yet to take the NYS Bar exam will instead be designated "Volunteer Attorneys" and will function in the office as a law clerk as opposed to an AAG or Volunteer AAG.