MuBANY Content Creator Job Posting - Spring 2022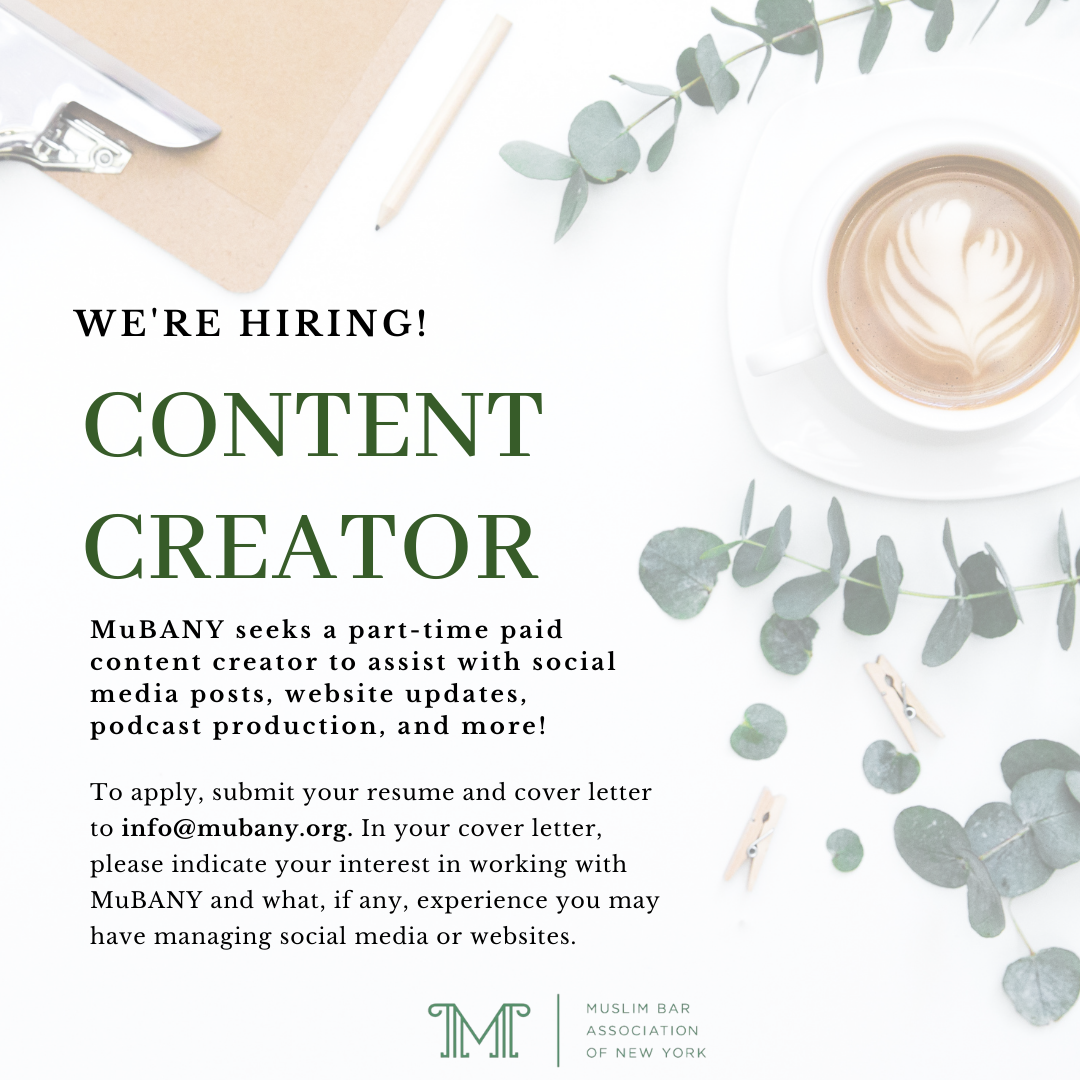 The Muslim Bar Association of New York (MuBANY) seeks a part-time paid intern to assist with social media posts, website updates, monthly newsletter preparation, and other similar messaging distributed by the bar association. Podcast production experience is a plus.
About MuBANY:
MuBANY is a member-driven bar association open to any interested lawyer or law student. We organize educational, networking, and professional development events for our members. We also partner with local and national bar associations and legal organizations on advocacy issues impacting the Muslim community in the United States.
Responsibilities:
Putting together MuBANY's monthly newsletter;

Creating and posting MuBANY's social media; and

Updating MuBANY's website.

Assisting with podcast episode production
Criteria:
Reliable and able to meet deadlines

Proactive, organized and detail oriented

Creative! MuBANY creates all of its fliers and marketing materials in-house, and we are looking for someone who has an eye for design and presentation

Familiarity with all main social media platforms (i.e., Facebook, Twitter, Instagram, LinkedIn, YouTube) and eager to learn about how to update and manage a website

Excellent interpersonal skills - we are a small but active  team - we work closely together and would like our intern to be another member of the team!

An idea generator - while we are a small team, we are a bar association that is open to ideas on both substance and organization - we would love our intern to bring ideas about how we can better serve our membership
Location of Internship: This is a remote internship, but we would prefer that the intern be a law student who is located in the NYC metropolitan area
Length of Internship: 4 months (with potential for extension), expected 2 to 5 hours a week
Compensation: Compensation will be $15.00 per hour based on submission of time sheets and reimbursement of approved travel or other out-of-pocket expenditures. 
Application Instructions: Please submit a resume and cover letter to info@mubany.org. In your cover letter, please indicate your interest in interning for MuBANY and what, if any, experience you may have managing social media or websites.
MuBANY will accept applications on a rolling basis and is targeting a January 10, 2022 start date.
MuBANY does not discriminate based upon race, religion, color, national origin, sex (including pregnancy, childbirth, reproductive health decisions, or related medical conditions), sexual orientation, gender identity, gender expression, age, status as a protected veteran, status as an individual with a disability, genetic information, political views or activity, or other applicable legally protected characteristics. MuBANY is committed to providing reasonable accommodations for qualified individuals such as individuals with disabilities and disabled veterans in its application procedures. If you need assistance or an accommodation, you may contact us at info@mubany.org.