Staff Attorney (Bankruptcy Initiative) at Legal Aid Society of Mid-New York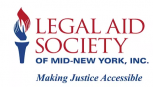 The Legal Aid Society of Mid-New York, Inc. (LASMNY), is actively seeking a full- time Staff Attorney to implement and oversee a new pro bono bankruptcy initiative, funded by a Pro Bono Innovation Fund Grant through Legal Services Corporation (LSC). This position may be located in our Binghamton, Syracuse or Utica offices. Reports to LASMNY's Director of Pro Bono Programs.
Essential Job Functions
The attorney will work with judges, bar associations, and other stakeholders to plan and implement expanded pro bono bankruptcy services. In addition, will develop a pro se component, to help debtors file on their own with the assistance of volunteer attorneys. Responsibilities will include, but not limited to, recruiting volunteer attorneys, developing and executing a recruitment plan, as well as other recruitment and outreach efforts. This recruitment plan includes working with the New York Northern District Bankruptcy Court to offer free Continuing Legal Education (CLE) programs to attendees that agree to volunteer. The attorney will work with existing staff to implement best practices from other LASMNY pro bono programs. In addition, working with LASMNY staff and other stakeholders to help design an online student loan screening tool. Will assist with any student loan litigation that LASMNY commences, including research, drafting, and coordination with outside counsel. Will be required to comply with all Legal Services  Corporation (LSC) regulations, LASMNY policies and procedures and grant-based reporting requirements.
Job Qualifications
Law degree from an accredited law school. New York State Bar admission preferred. Law Graduates may be considered with strong writing backgrounds. Prior experience with pro bono programs and/or bankruptcy related experience is preferred. The successful candidate will possess excellent research, writing, communications and organizational skills. The position also requires strong interpersonal and problem solving skills. Must be able to communicate effectively with clients, staff, volunteers, and court personnel. Must be able to work independently, efficiently and also collaboratively with others both within and outside LASMNY. Commitment to serving indigent community members. Bilingual or multilingual a plus.
LASMNY offers a generous benefit package, effective as of date of hire. Medical, vision, dental, life, supplemental life, voluntary, FSA, HAS, 403(b), SEP/IRA, mileage reimbursement, training, registration fees, NYS/County Bar dues, PTO, Parental Leave, Bereavement Leave, Jury Duty, Bar Exam Leave, EAP, Loan Repayment and (13) Holidays.
Salary depends on experience.
Application Process - We encourage interested qualified applicants to apply for this position by providing a cover letter, resume, writing sample and contact information for (3) professional references at jobs@LASMNY.org.