Agency Attorney - Staff Counsel, City of New York Consumer and Worker Protection
City of New York Consumer and Worker Protection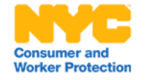 The NYC Department of Consumer and Worker Protection (DCWP) protects and enhances the daily economic lives of New Yorkers to create thriving communities. DCWP licenses more than 51,000 businesses in more than 40 industries and enforces key consumer protection, licensing, and workplace laws that apply to countless more. By supporting businesses through equitable enforcement and access to resources and, by helping to resolve complaints, DCWP protects the marketplace from predatory practices and strives to create a culture of compliance. Through its community outreach and the work of its offices of Financial Empowerment and Labor Policy & Standards, DCWP empowers consumers and working families by providing the tools and resources they need to be educated consumers and to achieve financial health and work-life balance. DCWP also conducts research and advocates for public policy that furthers its work to support New York City's communities. For more information about DCWP and its work, call 311 or visit DCWP at nyc.gov/dcwp or on its social media sites, Twitter, Facebook, Instagram and YouTube.

DCWP is seeking a highly motivated individual to serve as a Staff Counsel within the General Counsel Division, primarily focusing on investigation, enforcement, litigation and counseling surrounding the City's tobacco laws and initiatives. This position will work closely with the Agency's Licensing and Finance Divisions, as well act as the Agency's point of contact with the New York City Department of Health and Mental Hygiene, the New York City Corporation Counsel and the Mayor's Office, as necessary. This position will also draft, edit and/or review all tobacco-related laws and rules, and help design and participate in outreach events.

Responsibilities include, but are not limited to, the following:

• Investigate and prosecute businesses engaged in illegal conduct;
• Review license applications and conduct arm's length transaction analysis;
• Oversee industry-wide regulatory compliance projects;
• Undertake legal research and draft memorandum on legal issues facing the agency;
• Draft general correspondence and legal documents;
• Represent the Agency at hearings in New York City's administrative tribunal;
• Draft and negotiate settlement agreements;
• Draft proposed agency rules;
• Review and edit Licensing and outreach materials; and
• Participate in agency outreach and trainings for business and public education.
The ideal candidate will be responsible for these functions, as well as for special projects and assignments related to consumer or licensee issues or to DCWP's operations. In addition, as part of these functions, the Staff Counsel is responsible for careful case project management and operational tasks necessary to support and effectuate this work.
Please see the announcement for full job description.