Medical Legal Partnership Staff Attorney, Legal Aid Society Northeastern New York
Legal Aid Society Northeastern New York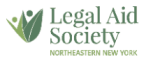 Responsibilities: The Attorney will be responsible for doing outreach, community legal education, advice, brief service and legal representation to patients referred by St. Peter's Health partners living in Albany, Rensselaer or Schenectady Counties. Case work for representation will include consumer issues, wills and estates, health care proxies, guardianship, Social Security Disability, public benefits and other income maintenance, Medicare/Medicaid/health insurance, custody, housing, landlord tenant, foreclosure. Responsibilities include intake through St Peter's Health Partners, and periodic demographic and outcome reporting. Depending on community need, the Attorney may be asked to handle some housing cases which do not arise from the MLP intake.

Qualifications: 1-4 years' prior legal experience (including law clerk and internships) or equivalent. Admitted to New York State Bar. Demonstrated commitment and capacity to provide high quality legal services to clients in a wide variety of civil matters. Must be willing to make a two year commitment to the Legal Aid Society. Must be able to communicate effectively with clients and work collaboratively with Health Partner staff and work independently and efficiently off site in a medical setting. Sensitive to the needs of low income households and aware of the connection between health outcomes and unmet legal needs. Must be creative, interested in and able to provide a full range of legal services in a wide variety of civil legal matters. Good computer skills including accurate and quick data entry. Must have car and clean, valid driver's license. Prior relevant legal experience and ability to speak Spanish is a plus.

Program Profile: The Legal Aid Society of Northeastern New York is a publicly funded law firm which provides free civil legal services to low-income individuals. Our current priorities include cases and matters in the following priority areas: Support for Families; Preserving the Home; Maintaining Economic Stability; Maintaining Safety, Stability and Health; and Serving Populations with Special Vulnerabilities
.
Salary: Up to $73,297 DOE; We are a unionized program, and our fringe benefits are excellent, including limited loan repayment assistance for eligible applicants.
 
Application Deadline: June 15, 2022

No applications will be accepted without cover letter, resume, references and writing sample.
For instructions on how to apply, please see the job announcement below.